Vacu-vials® Snapper
Simplified Testing
The Vacu-vials Snapper, Cat. No. A-0214, is designed for use with K-7433 Ozone and K-5543 Hydrogen Peroxide Vacu-vials® as an alternative to the kit's sample cup.
It allows the analyst the test the sample inside a plastic water bottle or sterile container rather than having to pour the sample into a sample cup each time, saving valuable time. The Vacu-vials Snapper has a wide brim at the top to allow it to rest on top of the aperture of, typically, a plastic water bottle or sterile drink container.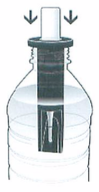 | | |
| --- | --- |
| Our Simple Testing Procedure | |
To use, place the CHEMetrics Vacu-vial ampoule, tip first, into the snapper taking care not to prematurely snap the ampoule tip. Then place the narrower end of the snapper into the sample. Apply gentle downward pressure on the flat end of the ampoule to snap the tip. The ampoule will then self-fill leaving a small bubble for mixing. Finally, complete the specific test procedure as detailed in the Vacu-vials test kit instructions.
Why Vacu-vials?
CHEMetrics patented, self-filling ampoule simplify and speed up water testing procedures. They eliminate the potential inaccuracies associated with manual sample and reagent volume measurement in the field. There is no measuring or mixing of reagents required. The chemical reaction is contained within the ampoule so it is safer. Vacu-vials, when used in conjunction with a CHEMetrics photometer or other Spectrophotometer, provides a digital reading and is not reliant on external lighting conditions for measurement. Please see the Vacu-vials page for more information.
---
---